The Vic state government railway crossing project has made room for the new Clayton Station Skatepark. The street style park is built into a playground/basketball complex with table tennis tables, drinking fountains, play equipment of all sorts and a few skate features for us justifying skating it and putting it on the map. The skate obstacles are actually pretty good however, don't get your hopes up because unfortunately there are only a few of them. Features include rails, ledges, and stairs that are located around the basketball court and everything is pretty small and mellow. The surface is a mix of concrete and a hard-matted rubbery material that is 'apparently' not meant to be skated on.
We still find it funny seeing skate stoppers at parks where they are trying to incorporate the use of the multipurpose facility, nevertheless we are luckily the skatepark has plenty of ledges. We also found a super cool public bicycle tool with all the tools you could dream of to fix your skateboard, scooter and even pump up the tires on the BMX.
Not a bad skate spot, an awesome public space but if you want to ride it, we would recommend getting there before rubber surface deteriorates as it is bound to quicker than most.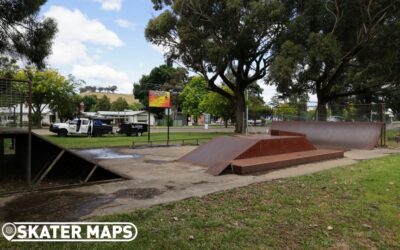 Nestled in the charming rural landscape of rural Victoria, the Swifts Creek Skatepark still stands as a destination for skateboarders, scooter rollers and bikers seeking some old steel ramps. This rustic gem boasts an array of steel ramps that challenge skaters with...