Bondi Skatepark is one of Australia's biggest and best skateparks that can be found on the beautiful Bondi Beach, just meters away from the sand and crashing waves. The world-class famous skatepark has been host to several of Australia's largest skateboarding competitions, including the infamous Bowl-A- Rama. Speaking of bowls, let's not overlook the epic 10 ft deep skate bowl with a slightly shallower shallow 5 ft section. Bondi Skatepark has heaps of transitions and plenty of ledges, and smaller features of the street skaters. Located just a short drive or bus trip from the centre of Sydney city, you won't be disappointed with Bondi Beach's concrete masterpiece.
The old school Dulwich Hill Skate Park, located in Sydney's inner west, is something to admire and a part of skateboarding history.  Dulwich Hill Skate Park has been upgraded several times over the years. The original snake run remains at the park's top and has been...
If not the best, at least one of the best skateparks in Australia, we present to you Sydney Park Skatepark.  Not much more to say for this one. Five stars with steeze.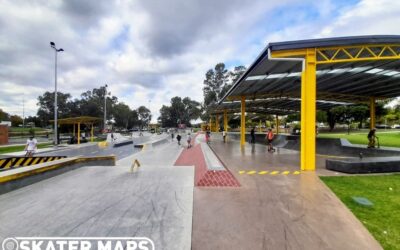 One of the best skateparks in the NSW, if not the entire of Australia, Albury boasts of its recent claim to skateboarding fame with the now-famous Albury Skate Park.  Pictures do not do this rad skatepark justice. It was so beautiful to see how many kids took...