Cobden Skatepark can be found on the corner of McKenzie St and Station St, Cobden (opposite the CFA fire station). The concrete skatepark is super versatile with heaps of small quarters, banks, ledges, euro gaps and even two epic feature bowls. The small skate bowl is a standard 3/4 bowl, that flows into the street section of the skatepark. The larger bowl is isolated by itself and is much deeper (roughly 7 ft). The larger bowl is shaped like an uneven square, but is super easy to find a line and pump around. The skatepark was designed and built by Convic Skateparks and is yet another rad park for the Corangmite Shire and an epic contribution to the small town of Cobden.
Unfortunately or fortunately when we went to Cobden skatepark, we were unable to start the car due to a flat battery as a result of blasting music to the broader Cobden community. As a result we had to wait a couple of hours for rural RACV to come and help get us started. This was no problem at all for the Skater Maps team as we were able to continue skating the rad park and dial down our lines on both of the skate bowls.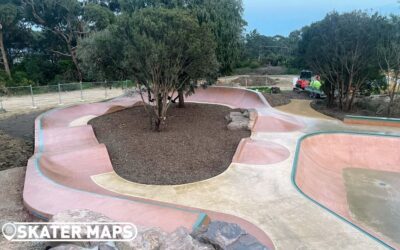 The new Mount Martha Eco Park Active Hub and Skate Park, also known to many as just Mount Martha Skatepark on the Mornington Peninsula is a fresh addition to the skatepark infrastructure in the region, offering a dynamic recreational space for both locals and...