Diamond Creek Skatepark is located adjacent to the Diamond Creek Outdoor Pool. A large concrete skatepark with a good mix of street, vert and overall flow. At one end we have a larger quarter that is split in two with one half being slightly larger and a bank. In the middle of the park there is a street section that has all of your standard features including boxes, rails, hips and a unique bank with a built in flat down ledge. The other end of the park has more rails and boxes that are much steeper along with heaps of banks with a range of inclines. There is also a sweet half pipe on the side that is also made out of concrete, which is fitting seeming as the park was designed and built by Concrete Skateparks.
Diamond Creek Skatepark has something to offer most skateboarders, scooters and BMX'ers. Worth checking out if you are in the area.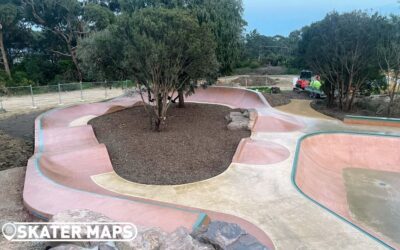 The new Mount Martha Eco Park Active Hub and Skate Park, also known to many as just Mount Martha Skatepark on the Mornington Peninsula is a fresh addition to the skatepark infrastructure in the region, offering a dynamic recreational space for both locals and...