Fabrice Harbulot Skatepark is the most heaven, hopping to the non-stopping de skate park Nouméa in the beautiful pacific islands of New Caledonia. By far the best skatepark in the country and boasts one of the best pump-tracks the world has ever seen. The design and craftsmanship of the build are paying dividends as Fabrice Harbulot Skatepark is the busiest park we have come across to date. The epic skatepark features a gnarly snake run style pump track where you can create your runs like you would in a maze. The skateboard park also features a large concrete slab with as many standard features as you would come to expect at an awesome skatepark along with an additional section dedicated to mini street features for the beginners. The skatepark doesn't shy away from stepping it up with a mean 6 ft concrete mini ramp with traditional coping that you would find anywhere else in the world.
With divine temperatures and overlooking the foreshore, this skatepark is one of if not the best skatepark for spectacular views and a fantastic atmosphere. Roll on down and pump your way around the most happening place in Nouméa.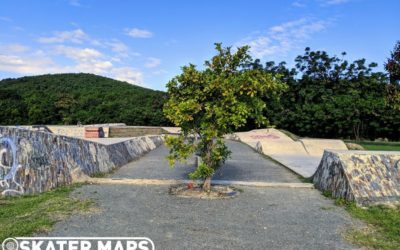 Skate Parc de Tina, also commonly referred to as Nouméa Skatepark is only one of a few special slabs of concrete in the south pacific island of New Caledonia. The skateboard is relatively conventional with a stock standard open bowl and a handful of street features....