Fawkner Skatepark is a rad park with heaps of different unique features that you won't find anywhere else in Melbourne. The skatepark was updated in 2013 with fresh designs provided by en:locus, catering for varying skill levels. There are transitions for days with a reasonably sized open bowl along with humps, knuckles and feature islands in the middle. The bowl has sloping characteristics that offer skaters every 1/4 size progression from 1 – 5ft enabling you to learn, practice and master yours tricks on whatever you feel comfortable with. The sloping edges get more aggressive in areas and are surprisingly easy and gnarly to grind down. The recently extended street section has its signature 1/3 rainbow quarter with a gap in the middle that you can crawl through. The street section also includes humps, jumps, banks, rails, boxes, ledges and more. For a small space, they have done a fantastic job of squeezing in so many obstacles that appeal to a range of skaters from beginners through to pros.
There is a BBQ, drinking fountain, seats and kids play area, all close to the skatepark. The skatepark also gets plenty of shade in the afternoon's thanks to the established surrounding trees. Overall Fawkner Skatepark is an epic spot to skate in and would be amongst Melbourne best skateparks, if it was only a little bigger. Navigate your own way through the skatepark with the 360° virtual tour and don't forget to let your opinion be heard by leaving a review below.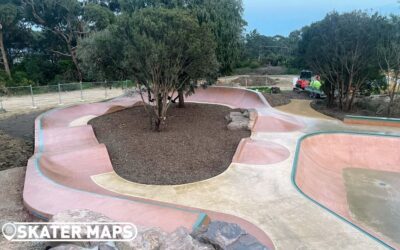 The new Mount Martha Eco Park Active Hub and Skate Park, also known to many as just Mount Martha Skatepark on the Mornington Peninsula is a fresh addition to the skatepark infrastructure in the region, offering a dynamic recreational space for both locals and...