Federal Skatepark is a slick piece of concrete that is definitely not as smooth as it was one up a time. The skateboard park comes fully equipped with the standard basketball hoop that we often find at these beautiful concrete jungles.
The street style skateboard park has several rad supper mellow street features for the young street punks. Street features include banks, ramps, ledges, rails and small quarter pipes.
Obviously, this skatepark is showing her age, but like a fine wine, it appears that she is getting better with age each time we ride her.
The old school Dulwich Hill Skate Park, located in Sydney's inner west, is something to admire and a part of skateboarding history.  Dulwich Hill Skate Park has been upgraded several times over the years. The original snake run remains at the park's top and has been...
If not the best, at least one of the best skateparks in Australia, we present to you Sydney Park Skatepark.  Not much more to say for this one. Five stars with steeze.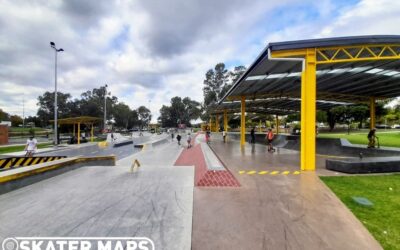 One of the best skateparks in the NSW, if not the entire of Australia, Albury boasts of its recent claim to skateboarding fame with the now-famous Albury Skate Park.  Pictures do not do this rad skatepark justice. It was so beautiful to see how many kids took...