Heidelberg Skatepark is located off Southern Road, Heidelberg West. The skatepark offers a great street section with fun box, grind poles, ledges, banks, humps, jumps, quarters and a 3ft 3\4 bowl at the end. Heidelberg Skatepark also features the same double bowl that you might already be familiar with if you have skated Fitzroy Skate Bowl, Lilydale Skatepark, Laverton Skatepark or Horsham Skate Bowl. They wouldn't have built so many of these epic skate bowls if they weren't rad to ride and super easy to find a line.
Next to the skatepark is a micro park that you might overlook unless you knew where and what it is. Too small to do very much, but a great to place for the kids to learn to pump about. Overall Heidelberg skatepark is a super versatile skatepark offering street features, transitions and bowls that would appeal to most skaters, scooter and BMX'ers.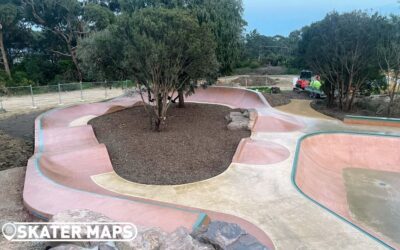 The new Mount Martha Eco Park Active Hub and Skate Park, also known to many as just Mount Martha Skatepark on the Mornington Peninsula is a fresh addition to the skatepark infrastructure in the region, offering a dynamic recreational space for both locals and...