Latitude Dish Skatepark or skate bowl, which it is, we are not entirely sure but at the very least it is a skate spot and still deserving of its place on the database as one of Melbourne's lamest places to skate. Latitude skate dish skatepark consists of a single bowl no deeper than 1 ft without any coping in sight. At the least Latitude skate dish is one of a kind and something that we hope you won't find anywhere else. Don't get us wrong, it is a skate spot nonetheless and any spot is better than no spot at all, however we wouldn't even recommend deviating off the highway as there are so many other rad skateparks in the vicinity
If by chance you are searching for the best skateparks in Melbourne's western suburbs, we would recommend saving your time and heading straight to Baden Powell Bowl. Alternatively you might want to check out Werribee Skatepark that once was the best in the west.
5P78+W4 Truganina, Vic 3029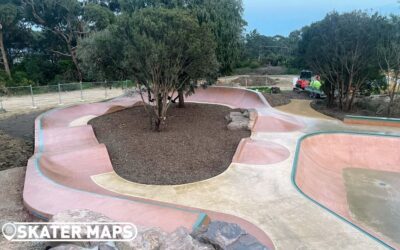 The new Mount Martha Eco Park Active Hub and Skate Park, also known to many as just Mount Martha Skatepark on the Mornington Peninsula is a fresh addition to the skatepark infrastructure in the region, offering a dynamic recreational space for both locals and...