Loyola Reserve Skatepark can be found in Loyola Reserve, Werribee, next to the multipurpose basketball court. The street style skatepark can easily be overlooked as it only contains a few ledges, rails, bank and a hump. All of the obstacles are in a line and only accessible to hit on one side as they double up as a barrier, separating foliage from the concrete. The features all have purpose built metal edges and are often pre waxed for your enjoyment. The bank is very small, but provides skaters with lots of options when hitting the ledge that it is moulded into. The hump doesn't contribute a great deal to the park, although at least it makes the park's location a bit more obvious. The ledges are pretty basic, but a ledge is a ledge at the end of the day.
If you live in the area, there is no need to have a gym membership, as Loyola Reserve offers most of the same exercise equipment scattered around the park in an almost circuit style workout. The park also features a full sized concrete basketball court to throw down or master that next flat trick that you have always wanted to land. The Skater Maps team had a rad time at Loyola Reserve and give the park props, but unfortunately with only a few features it is hard to give it any more than a one star rating considering that there are so many epic skateparks being constructed around the country.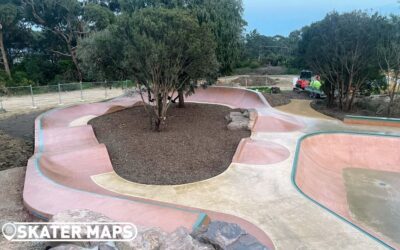 The new Mount Martha Eco Park Active Hub and Skate Park, also known to many as just Mount Martha Skatepark on the Mornington Peninsula is a fresh addition to the skatepark infrastructure in the region, offering a dynamic recreational space for both locals and...