The Mega Ranch is absolutely MEGA. Photos don't do it justice. It has to be seen in person to really appreciate just how mega this ramp really is.
The brainchild of professional golfer Peter Wilson, the Mega Ranch was built in his backyard somewhere in South Gippsland, Victoria. After the popularity of Mega Ramps and vert skateboarding across America, it became the first of its kind in Australia.
It is surprising to learn that they have been facing issues from complaining neighbours. We loved seeing the huge investment from councils across Australia that has made us the most densely populated skatepark per capita country in the world. It is disappointing to learn of the challenges and hurdles that have been and are still being overcome. People should be trying to support and encourage such fantastic initiatives and not waste their time trying to have them removed. Despite the unforeseeable indifferences, the Mega Ramp has been deconstructed, re-located and constructed once again.
The Mega Ramp begins on a huge roll in with extensions and steps that mellows out briefly on a flat section before throwing you in the air and hopefully landing you on the gigantic ramp that shoots you into the largest vert in the southern hemisphere. Constructed out of skatelite, the 27 ft vert feels as smooth as any indoor ramp in the country.
Unfortunately we can't share the address with you, as this is a privately owned skatepark. To skate the mega ramp, you will either have to befriend one of Peter's kids who are shredding the ramp as hard as any, or have once ranked number one in the world, such as local legend Tas Pappas. There have however, been rumors circulating that the Mega Ramp might be opened for private sessions in the future. Make sure to follow the Mega Ranch on instagram to keep up to date and be the first to learn of any developments.
Despite already being the radest skate spot in Australia, it is hard to believe that the Mega Ranch is still under construction. We can't wait to invite ourselves back when it is finished and update the pics.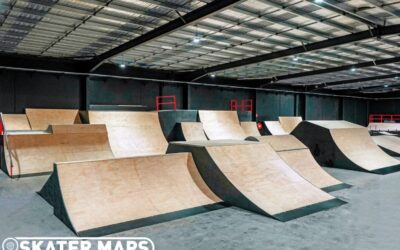 Volo Park is the latest and possibly the greatest private indoor skatepark to open in Greater Melbourne. The skatepark features heaps of transitions, jumps and decent-sized ramps. Roll on down and ride Volo Park whilst the wood is still in premium condition and before...