Point Cook Skatepark features a large bowl and a few ledges scattered around the outskirts. Designed and built by Convic Skateparks, Point Cook Skatepark has been among the first skateparks built in an area that is now flooded with recently constructed skateparks and skate spots.  The large concrete skate bowl is 6ft deep in the shallow section and as deep as 9ft in the deep end. The bowl is fully equiped with traditional steel coping, severe hips, extensions and even a very steep bank.
Once one of Melbourne's best skate bowls, unfortunately Point Cook is showing it's age and is in need of some TLC. There is often rubbish and smashed glass in the bowl and the drainage is average to say the least. As a result we wouldn't recommend skating Point Cook Skatepark unless it hasn't rained in a couple of days and you have a broom or leaf blower handy. With this in mind, if your lucky stars align and you manage to avoid the crowds at the same time, you're in for an epic session but remember, don't count your chickens before they hatch.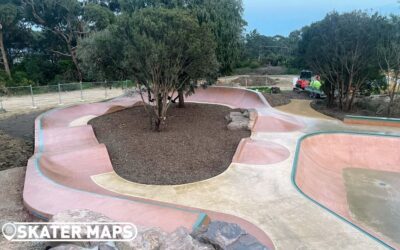 The new Mount Martha Eco Park Active Hub and Skate Park, also known to many as just Mount Martha Skatepark on the Mornington Peninsula is a fresh addition to the skatepark infrastructure in the region, offering a dynamic recreational space for both locals and...