SKATEPARK CLOSED!
Public Mayhem has hit Melbourne and is literally causing the public mayhem with their private indoor skatepark. This is one of Melbourne's hidden gems if you like mini ramps. There is nothing to be found but transitions, trannies and trans, but if you love them as much as we do, this private skatepark is worth every cent. The skatepark features a 5 ft double mini ramp with spin, extensions and coping or not. This is one of the raddest mini ramps in the country. There is another ramp that is probably better described as a micro ramp as it would be less than 2 ft high, nevertheless as good a place as any to learn to pump. Public Mayhem manages to tick most boxes and even has a micro mega ramp, which are becoming more and more popular with our scooter shredders. There is something for everyone at Public Mayhem skatepark, even a selection of portable jumps, rails and ledges for the street skaters.
We would be lying to you if we pretended that we have skated every park that we have been to, however, we couldn't go past having a roll at Public Mayhem. We highly encourage you to do the same and pay Melbourne's newest indoor skatepark a visit.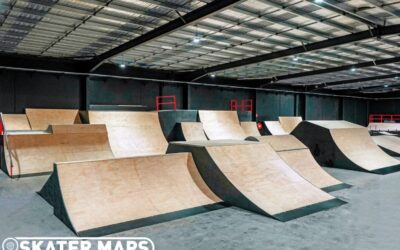 Volo Park is the latest and possibly the greatest private indoor skatepark to open in Greater Melbourne. The skatepark features heaps of transitions, jumps and decent-sized ramps. Roll on down and ride Volo Park whilst the wood is still in premium condition and before...