Reservoir Skatepark was once a contender for Melbourne's worst skatepark, however it was upgraded in 2013 and is now amongst Melbourne's best street skateparks. The skatepark upgrade was designed by Playce and incorporates heaps of recycled objects that you may find on a typical Melbourne street. The award winning design has attracted attention to the legit street skatepark from across the world. The skatepark has been built on top of existing basketball and netball courts. The course concrete will shred up any item of clothing, although the cracks appearing though out the park are more of a concern and something to keep an eye out for, especially for the street skaters who roll around on tiny wheels. It is very cool street skatepark and a rad addition to complement the growing street skating spots in Melbourne.
Recycled street park features:
– Small 4-way fun box with steep quarter and banks – "Berm" styled ramp with steep backside – Box jump – Slappy curb – Small round rail – Small timber grind box – Fire hydrant – Tram jersey barrier – 3 transitioned old-style jersey barriers – Steep bank – Low L-ledge / manual pad – Slippery-Dip (old slide converted to ledge with banked ends) – Large pole-jam – 2 metal a-frame ramps – Long round kicker rail – Large round s-rail – 2 small metal benches – Kicker ramp
Youth Precinct Features: – Futsal Court – 2 basketball courts – 1/2 Netball court – Tennis wall – Drink taps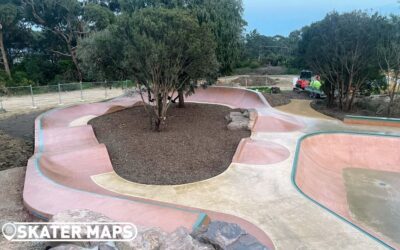 The new Mount Martha Eco Park Active Hub and Skate Park, also known to many as just Mount Martha Skatepark on the Mornington Peninsula is a fresh addition to the skatepark infrastructure in the region, offering a dynamic recreational space for both locals and...