The Ring Of Fire is officially open again. We are waiting to receive pics of the recently updated indoor skatepark to share with you.
Once upon a time the Ring Of Fire was Melbourne's best Skatepark with one of Australia's top skate bowls, however today it is little more than a shrine to what once was.
The indoor Skatepark features a huge wooden bowl with a mix of pool coping and tiles at one end, as well as traditional steel coping. The bowl is showing its age and has had minimal maintenance since it was originally constructed, however they have managed to patch up the worst parts and although not as smooth as it glory days, it is surprising still fun to skate.
Next to the bowl upstairs is a small 2 ft wooden mini ramp with roll in and bank at one side. The transitions are tight, but it's still not a bad mini for those searching for a traditional wooden ramp that are becoming scarce.
Downstairs comprises of a sweet street section on a plywood surface with banks, rails, ledges and heaps more. Although you feel like your in a crack den with rubbish and cigarette butts scattered throughout, it adds to the atmosphere and is still a very cool place to skate.
We tried hard to turn on every light for the photo shoot, however couldn't find many, or any that worked, thus would recommend skating during the day as the former glory days where we could skate late into the night are unfortunately a thing of the past.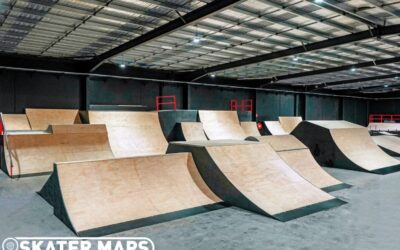 Volo Park is the latest and possibly the greatest private indoor skatepark to open in Greater Melbourne. The skatepark features heaps of transitions, jumps and decent-sized ramps. Roll on down and ride Volo Park whilst the wood is still in premium condition and before...