Melton South Skate Park is a concrete course that loops back on itself. The skate park is roughly 1.5 meters wide and 50 meters long that connect together as a square. South Melton Skate Park features Two large 5ft humps with quarters running of each side. The skate park also has a small 1.5 foot spine and standard box for the street skaters.
There is not much on offer for the street skaters or those looking for transitions, Nonetheless doing a few laps of the skate park is still a lot more fun than going for a run. There are loads of awesome skateparks in and around Melton, including the recently upgraded Melton Skatepark. Probably worth checking them out first before wasting your time here, nevertheless if you have the time and don't mind a bit of repetition, Melton South Skate Park might be down your alley. The skate park is not to sneeze at and although not that popular with skateboarders, it is very popular with the scooters. Make sure to leave a comment and let us know what you think if this groovy, different skate space. We have probably been too harsh on the park only giving it one star, however with so many rad skateparks in the area, being critical is the only to properly differentiate the good skateparks from the gnarly parks.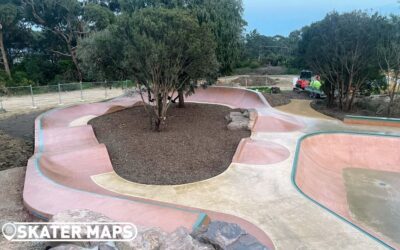 The new Mount Martha Eco Park Active Hub and Skate Park, also known to many as just Mount Martha Skatepark on the Mornington Peninsula is a fresh addition to the skatepark infrastructure in the region, offering a dynamic recreational space for both locals and...