If you are searching for a dedicated surf camp where you can skate before and after high tide, look no further than Stormrider Surfcamp Bali. This dedicated establishment offers everything from a private relaxing tranquil environment with swimming pools, accommodation and the rest including one of the best mini ramps in Bali Indonesia. Located just on the northern outskirts of Cangu, if you like surfing and skateboarding without the crowds, this might be as close to heaven on earth for many.
The 3ft mini skateboard ramp is one of the only skateparks that use skatelite over to the more conventional and commonly seen concrete surface and the closest thing in Indonesia to a conventional wood skate ramp. Every screw that we saw was flush with the surface and there was barely any movement from either of the steel copings. The mini ramp had obviously been given some serious consideration and thought as it capitalizes on the space whilst leaving enough headroom for the 6'5 giants not to worry about hitting their heads on the roof. The top layer/surface at the least has been constructed on 45° sloping angles like all the best built half pipes around with the world that make it even more challenging to notice any bumps between the sheets of skatelite.
It is the only indoor/undercover skatepark in Canggu, Bali which is amazing considering how much precipitation Indonesia receives in the wet season.
Manager's name is Max and his pooch responds to anything, however, has ….. Written on his cooler. Whether you are staying at Stormrider Surfcamp or not, the private indoor mini ramp has put it on the map as one of the coolest places to slang in Canggu especially when it rains.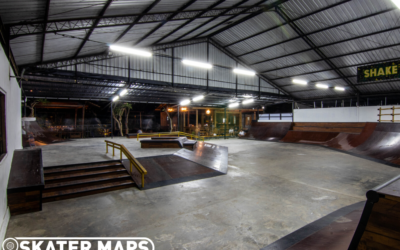 Motion Skatepark in Kuta, Bali, Indonesia, has been through a major upgrade in 2019. The private indoor skatepark is among the freshest in Bali. The street style skatepark has transitions around the perimeter and a mini skate ramp off to one side. Drop in and grab a...