The New Sunbury Fields Skatepark was constructed by the hard working team at Grind Projects. The street style skatepark has several smaller obstacles that look super fun. Unfortunately when we went to take the pics the fence was up, therefore it is hard to fully appreciate this concrete masterpiece. Although there are only a few obstacles, the skatepark opens up onto a basketball court that really opens up the skate-able space. Surrounding the entire park is a footpath that will come in handy when you want to start hitting the pieces of concrete art from different angles. The skatepark is probably deserving of a couple more stars as there is nothing wrong with the design, size, or build, we just wish there was more of it. Nevertheless for a small street oriented skatepark, Sunbury Fields should keep you amused for a couple of hours at the least. Not if, but when you finally get over the several obstacles there still might be something on offer for you on the other side of the tennis wall that is as unique to Melbourne parks as some the skate features themselves. Most noticeably there are the rock climbing walls, however the drinking fountain can be almost just as hard to find at Melbourne skateparks and probably more appreciated by the broader skating community. All in all, Sunbury Fields Skatepark is a rad park with a lot on offer that should keep the kids off the streets, including basketball, tennis, rock climbing and even a circular dizzy toy as an alternative to drugs and alcohol.
If you are in the are and looking for a more traditional skatepark with transitions and even a couple of rails, check out Sunbury Skatepark. We wish we could say it is only a short skate away, but you realistically will need a BMX at the least as they are not as close as you may have hoped.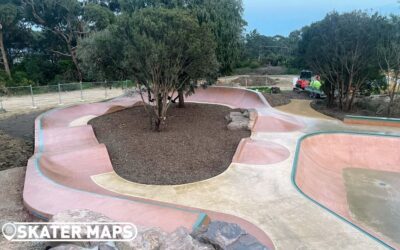 The new Mount Martha Eco Park Active Hub and Skate Park, also known to many as just Mount Martha Skatepark on the Mornington Peninsula is a fresh addition to the skatepark infrastructure in the region, offering a dynamic recreational space for both locals and...