The skatepark has been demolished and is now CLOSED.
Tarneit Skatepark is a small park located in the middle of Ecoville Community Park, Tarneit. The skatepark focuses on the street features that are scattered around. It also has it's signature 3 ft mini ramp at the end with the gap on one side of the ramp, which you may have seen in pics elsewhere. The entire skatepark is constructed out of concrete and has conventional steel edges and coping which you would  expect to find at any modern skate facility. The skatepark is designed in a zig-zagging line and features banks, rails (round and flat), euro gap, ledges, boxes and more. If you are planning on hitting it up Tarneit Skatepark, we would highly encourage you to bring your leaf blower or broom as the entire space was covered with little white rocks that will slip up any skater.
You might wonder why we have only given Tarneit skatepark a two star rating…? For a relatively new skatepark with most of the obstacles that you would find elsewhere, what have we overlooked? Unfortunately the space has not been very well maintained, or had any maintenance at all. For a park with everything including public tennis and basketball courts, it currently looks like what we would presume the space would look like after the apocalypse. None of the water fountains work anymore, there is overgrown weeds everywhere, broken seats and the community centre looks worse than the detention centre on Manis Islands.
Ghetto as FCUK, worth avoiding the skatepark.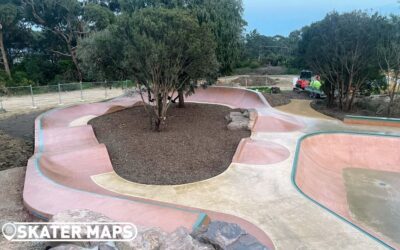 The new Mount Martha Eco Park Active Hub and Skate Park, also known to many as just Mount Martha Skatepark on the Mornington Peninsula is a fresh addition to the skatepark infrastructure in the region, offering a dynamic recreational space for both locals and...