Terang Skatepark is a smooth concrete versatile skate space, offering ramps, transitions and heaps of street obstacles. Featuring a 5 ft mini ramp, several smaller quarters, stairs, rails, ledges, boxes and ramps. The compact skatepark offers a lot of options for its size and has something that would appeal to most skaters.
Designed and built by Convic Skateparks, the Terang Skatepark is a fantastic community asset. The community have an awesome skatepark, provided by the best in the best skatepark builders in the country.
The Terang Skatepark can be found on Terang Recreational Reserve on Ewig St, Terang. The complex is managed by the Corangamite Shire who have stepped it up with their skatepark programs and investments. This is only one of many of their epic skateparks as the Corangamite Shire have a total of six parks, however being rural Victoria, it takes all day to skate from one to the another.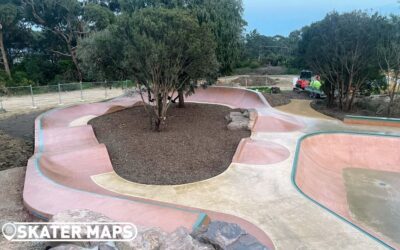 The new Mount Martha Eco Park Active Hub and Skate Park, also known to many as just Mount Martha Skatepark on the Mornington Peninsula is a fresh addition to the skatepark infrastructure in the region, offering a dynamic recreational space for both locals and...