Warrnambool Skatepark is a large concrete skatepark offering a collection of ramps, half pipes, bowls and a rad street section.
The largest half pipe is 7ft with a slightly smaller and thiner 6ft section that tapers off with a hip on one side. The 5ft half pipe moulds into a mellow 1/4 bowl with no coping that is a recurring theme through out the skatepark, creating heaps of flow. As a result, you will never be waiting long for a turn even when the skatepark is packed with scooters, BMX'ers and skateboarders in the middle of school holidays. The street section has a smaller 4ft horseshoe shaped bowl with out much coping that is pretty sketchy, nonetheless a lot of fun to loop around or pop out of. There are another two even mellower bowls with even less coping that blends in to the street section and complements to the overall flow of the skatepark where you can find lines to pump to any corner with out having to think. With heaps of Fun boxes, kickers, ledges and banks, Warrnambool Skatepark serves for an epic street spot as well. Located just a couple of hundred meters away from the Breakwater Rock Pier along the Merri River. If you are driving along the Great Ocean Rd make sure pack your board, because this skatepark offers something for everyone and is a place that you could spend the entire day and still not get bored.
Probably underrated with only four stars, let us know if you think we should give it an extra star.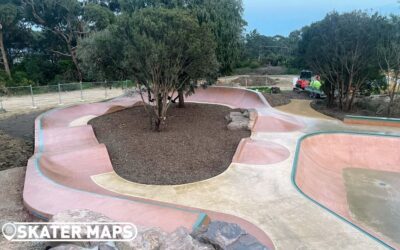 The new Mount Martha Eco Park Active Hub and Skate Park, also known to many as just Mount Martha Skatepark on the Mornington Peninsula is a fresh addition to the skatepark infrastructure in the region, offering a dynamic recreational space for both locals and...