Cockatoo Skate Bowl is one of the mellowest skate bowls in the Victoria. The 4ft concrete skate bowl is peanut-shaped with a couple of hips and traditional steel coping. There is a small extension on one half of the shallower section, asymmetrical flat section in the middle that creates an almost perfect mini ramp and a slightly deeper, larger, rounder dish-shaped end to the bowl. The skate bowl is accompanied by a single box on the side for the street skaters. Although there is not much of a street presence, there is still heaps of surface around the bowl to get creative with, especially considering that fresh concrete is much harder to find in Cockatoo.
Cockatoo Skate Bowl was built and designed by Convic Skateparks. The skate bowl replaces its predecessor, being built over the top of the original Cockatoo bowl. The transitions are as smooth as the new concrete. Make sure you get on down to Cockatoo to skate this epic bowl. You will almost always have the skatepark to yourself and if you are lucky, you might even get to see the famous Puffing Billy as it steams past.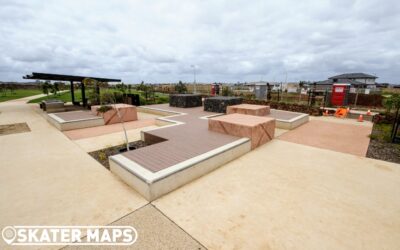 Truganina is proud to boast of yet another skatepark. The street-orientated skate facility as its name implies features a number of ledges. The ledges are on the larger side and would probably appeal to scooters and BMX riders as much if not more so than skateboarders...