Gembrook Skatepark was the pruning grounds for young Gemma from Gembrook (That Skater Girl) . The concrete skatepark is very large and is covered with obstacles that we have do doubt you cant't wait to skate. For a small town, Gembrook have an awesome skatepark and probably the most versatile appealing to most skaters. There are way too many features to list them all, however think banks and quarters. There is almost every sized bank you could dream of and heaps of small mellow quarters. There is a super structure in the middle of the park with more banks, euro gaps, ledges and boxes. The skatepark has a great flow and feel to the place and would be able to accommodate for large groups and crowds with its open design.
Gembrook skatepark can be found on Gembrook Rd, Gembrook and backs on to a modern park with a children's play ground, shelter, lots of tables and even a public toilet. Leave a comment and let us know what you think of the park.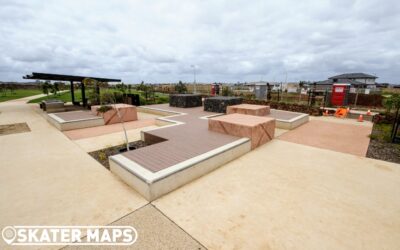 Truganina is proud to boast of yet another skatepark. The street-orientated skate facility as its name implies features a number of ledges. The ledges are on the larger side and would probably appeal to scooters and BMX riders as much if not more so than skateboarders...