SKATEPARK CLOSED  Konkrete Skate Bowl consisted of a rad little concrete skateboarding bowl that is part of Konkrete Store Bar & Cafe. The bowl is a relatively traditional kidney-shaped with kinks and a deep/shallow end. The concrete bowl has a thin layer of pool tiles at the top of that mash into untraditional concrete coping. For a mean looking pool style and oriented skate bowl, this is probably one of the smallest, smoothest and mellowest that we have come across. In saying that, the skateboard bowl can still be as intimidating as any when the crowds gather after the sun goes down. Unlike the rest of the private skate facilities in Bali, you can skate Konkrete whenever you like as there are no fences or security measures deterring skaters from having a session whenever they please.
The word on the street circulating is that the famous Konkrete bowl might be destroyed, in the near future so if you get a chance we would highly encourage you to get a roll in before it ends up like Organic Corner.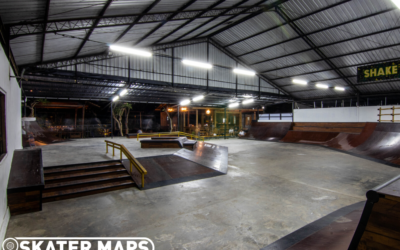 Motion Skatepark in Kuta, Bali, Indonesia, has been through a major upgrade in 2019. The private indoor skatepark is among the freshest in Bali. The street style skatepark has transitions around the perimeter and a mini skate ramp off to one side. Drop in and grab a...