The Murray Shire Council are stoked to show off their $440,000 Moama Echuca Community Skate Park. The Skatepark was constructed in 2011 and connects to the previous skatepark. The contrast between the new and the old skatepark is hard to miss and serves as a great example of how we can add to existing parks instead of building over the previously existing skatepark. The old skatepark makes for a rad street section with heaps of rails, an awesome concrete double quarter with spine, several ledges and a few steel ramps. The new section of Moama Skatepark is something to be admired by everyone and shredded by those lucky enough to ride it.
⊕ 2 Blair St, Moama NSW 2731
The old school Dulwich Hill Skate Park, located in Sydney's inner west, is something to admire and a part of skateboarding history.  Dulwich Hill Skate Park has been upgraded several times over the years. The original snake run remains at the park's top and has been...
If not the best, at least one of the best skateparks in Australia, we present to you Sydney Park Skatepark.  Not much more to say for this one. Five stars with steeze.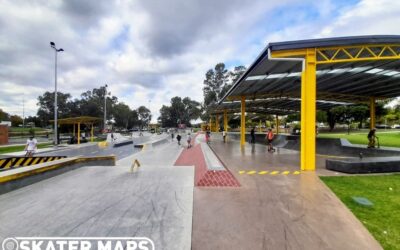 One of the best skateparks in the NSW, if not the entire of Australia, Albury boasts of its recent claim to skateboarding fame with the now-famous Albury Skate Park.  Pictures do not do this rad skatepark justice. It was so beautiful to see how many kids took...