The Shed Skatepark is by far the best Skatepark that Melbourne has to offer. The indoor skatepark is fully equipped with an airbag, vert ramp, mini ramps, rails, ledges, boxes, gaps and stairs, as well as Australia's best bowl.
The Shed Skatepark has been around for longer than razor scooters, however it has been constantly evolving as they have made the effort to change one section every year in order to keep the park fresh. The most recent upgrade features one of the best 2 ft mini ramps we have seen to date. The skatepark has a great flow about it, catering to skateboarders, scooters and Bmx'ers who are into jumps, street, vert, mini ramps or bowls.
The Shed Skatepark has a rad cafe staffed by some of the best baristas in Cranbourne. It also has one of the most comprehensive skate shops in Victoria with everything from skateboards, scooters, protective pads and most importantly they are the only retailer exclusively stocking our Skater Maps threads.
Single sessions starting from $10. Check their website for session times and prices.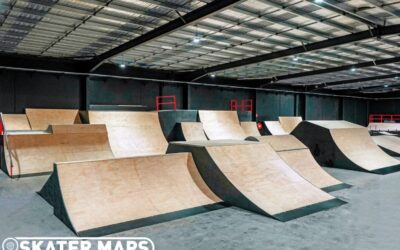 Volo Park is the latest and possibly the greatest private indoor skatepark to open in Greater Melbourne. The skatepark features heaps of transitions, jumps and decent-sized ramps. Roll on down and ride Volo Park whilst the wood is still in premium condition and before...