Rosebud Skatepark, located in the Foreshore Reserve (Cnr Point Nepean Highway and Boneo Road), is a plaza style street skating park. Not a quarter or tranny in sight you might still have fun here if you can dodge the hordes of ice cream licking scooter kinds riding their brand new Christmas presents in the summer holidays.
The park has loads of nice ledges, a tiny three stair with mellow down rail and hubba, plenty of stand alone marble banks on different angles and some granite rails and ledges. There are also some super steep banks for wall rides and one of those funky little "u pipe" thingies.
Good for MILF spotting and has a close proximity to both Maccas and the Beach; what more could you want in life?
One Star is better than no stars.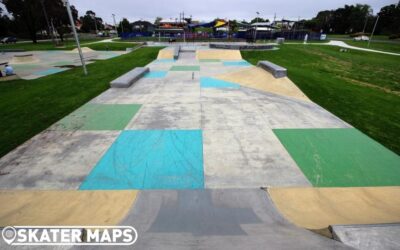 The fresh concrete that makes Bairnsdale skatepark is rad, to say the least. The plaza-style park consists of a large street section with all the street obstacles any kid could dream of. There is a rad mini ramp along with a number of other transitions around the...