Vic Uni Skatepark is more of a course than a conventional skatepark. The skatepark is on the corner of Rees Rd and Straughton St, Melton South. Vic Uni is roughly 1.5 meters wide and 50 meters long that connect together as a square. Featuring Two large 5ft humps with quarters running off each side without and coping and too far apart from one another to pump between. The skatepark also has a small 1.5-foot spine and standard box for the street skaters.
There is not much on offer for the street skaters or those looking for transitions, Nonetheless doing a few laps of the skatepark is still a lot more fun than going for a run. There are loads of awesome skateparks in and around melton, so probably worth checking them out first before wasting your time here.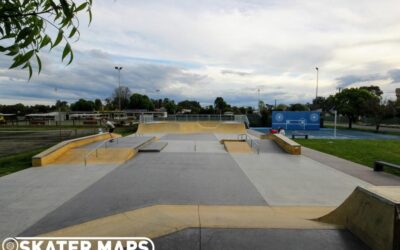 The Strathbogie Shire Council is proud to boast of the freshcrete in Nagambie with the New Nagambie Skatepark. The fresh designs create an open-flow street section linking to a bowl. The concrete bowl with steel coping is one of the best we have skated in Victoria....