The Balnarring Skatepark is a relatively new Skatepark located off Civic Close, right next to the Balnarring Village Shopping Centre. Built in 2014 by Precision Skateparks it features a super smooth, split level continuous bowl at 2.2m (over 6ft) deep complete with flat banks and hip, roll ins and a sloped coping at one end. The Skatepark also features a plaza area with ledges, rails, banks and many pads as well as a metal quarter at one end. The park also has lighting, which is a bonus, although I'm not sure how late they'll keep them on.
The extended park also has toilets, BBQ, picnic tables and a permanent table tennis setup. Balnarring is also a fairly sleepy little town so you can guarantee the bowl won't get too rammed on the weekends.
Definitely worth dropping in if you haven't checked the place out since it was just a metal mini ramp.
Skater maps have given the park 4 stars, falling just short of 5 due to the simplicity of the low level obstacles in the street section and a difficulty to keep flow through the park. Otherwise it's a pretty sweet setup…check it out!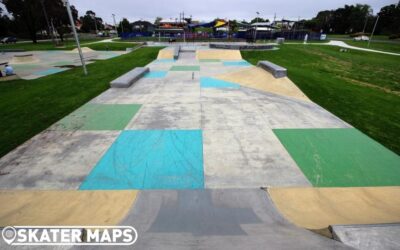 The fresh concrete that makes Bairnsdale skatepark is rad, to say the least. The plaza-style park consists of a large street section with all the street obstacles any kid could dream of. There is a rad mini ramp along with a number of other transitions around the...