Barwon Heads Skatepark was designed and built by Convic Skateparks and can be found in the Barwon Heads Community Park and features a unique dog bone-shaped 9ft bowl with a shallower 4ft section. The thin middle length of the bowl spans the difference between each side. With the steep walls, it's easy to build speed going into the deeper half, however, getting back is harder work. The Barwon Heads Bowl is mean with 2ft vert incline covered with steel coping and it definitely boasts the gnarliest skate bowl on the Bellarine Peninsula. If you are searching for a slightly mellower bowl, consider making the 10-minute drive to Ocean Grove Skatepark as it is much more accommodating for the average skateboarder seeking good times and fun lines. The street section circles a group of trees that makes you feel at one with nature, whilst also turning the park into more of a course. This cleverly designed street section has large 5ft quarter, banks, boxes, rails, stairs and ledges.
The skatepark comes fully equipped with a drinking fountain along with a glass sound barrier that looks terrible and makes you feel like your an animal in a zoo, however at least you can bring your boom box and make as much noise as you like.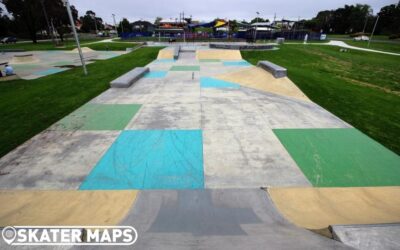 The fresh concrete that makes Bairnsdale skatepark is rad, to say the least. The plaza-style park consists of a large street section with all the street obstacles any kid could dream of. There is a rad mini ramp along with a number of other transitions around the...