Benalla Skatepark has been upgraded over the years and now features a huge 10 ft bowl along with the original 7 ft mini ramp and various steel fun boxes and quarters. The concrete extension makes the skatepark much more versatile for skaters and scooters.
The steel half pipe is showing its age, nevertheless the concrete half of the skatepark is smooth. The bowl has a 1 ft extension running half of the circumference, whilst also including humps and hips. Next to the new bowl is a relatively modern street section with several ledges, stairs, rails, boxes and even a tiny 1.5 ft quarter.
Benalla Skatepark was recently featured in the annual Wall to Wall Festival with fresh art, created by internationally acclaimed street artists. We look at skateparks as a piece of art, however Benalla takes the cake for the most artistic skatepark.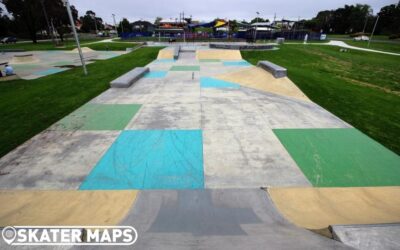 The fresh concrete that makes Bairnsdale skatepark is rad, to say the least. The plaza-style park consists of a large street section with all the street obstacles any kid could dream of. There is a rad mini ramp along with a number of other transitions around the...