Birregurra Skatepark is a hidden gem. The park is located 100 meters off the historic Main Street near the bridge. It is truly a little oasis with the surrounding parklands shielding you from the traffic on the main road of Birregurra. The concrete skatepark features a selection of perfectly shaped mini quarter pipes that funnel into a really fun U shaped bowl. A few rails (flat down rail, urban rail and a funbox) dotted around the park.
Birregurra Skatepark is only a few k's off the Princes Highway if you're heading between Colac and Melbourne (or vice versa) and is definitely worth the slight detour. The park is also almost guaranteed to be fairly quiet and is well-deserving of four stars.
The town is divided between the Colac Otway Shire and the Surf Coast Shire, with the skatepark itself provided by Colac Otway Shire.
Apparently, the region is renowned for its fertile soils and high-quality beef, lamb and certified grass seed…So it might be worth trying and get your hands on some beef or lamb at the local pub, the Royal Mail Hotel. Alternatively, if you're a Vegetarian, you could nibble on some of that famous and abundant grass surrounding the skatepark.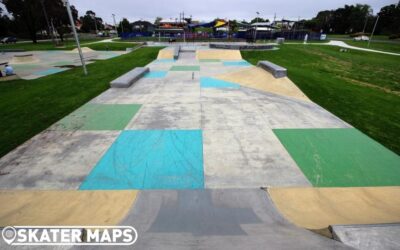 The fresh concrete that makes Bairnsdale skatepark is rad, to say the least. The plaza-style park consists of a large street section with all the street obstacles any kid could dream of. There is a rad mini ramp along with a number of other transitions around the...