Brunswick Skatepark also referred to as Clifton Park, is located off Victoria Street, Brunswick and features a deep concrete clover-shaped skate bowl with steel coping and a street course laced with ledges, a euro gap, quarter pipe and banks. Brunswick Skatepark is diverse and offers skaters the choice between street and vert styles, making for a great location for experienced and intermediate skaters to test their skills.
The skatepark was built by Precision Skate Parks, who have been building some of the best skateparks in the country including the famous Portland Skatepark.
Deserving of its four-star rating, Brunswick Skatepark is an excellent spot for skaters and is recommended for a visit by the Skater Maps team. Do you agree? Tell us below.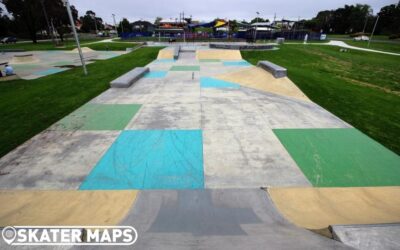 The fresh concrete that makes Bairnsdale skatepark is rad, to say the least. The plaza-style park consists of a large street section with all the street obstacles any kid could dream of. There is a rad mini ramp along with a number of other transitions around the...