The Carrum Downs Skatepark (or Sandfield Reserve Skatepark) is a unique little Skatepark located off Sandfield Drive that has to be seen to be believed.
The Skatepark is more of a 'course' than a conventional park and is laid out in a triangular shape with dirt section in the middle. Features on the course include a banked hip, box jump, fun box + funbox with kink, banked ledge / manual pad and a fun little sloped quarter bowl thingamajig.
Was it built by aliens or Convic? Hard to be sure.
The Skatepark also has a Facebook page but the alien administrators don't update it very much.
In other news the park also features a half-court basketball court, play equipment and plenty of space for your dog (or cat) to run around in. The only issue is that there aren't many trees about (or shade for that matter, funny that).
Check it out for yourself or just take an online tour (less chance of being abducted by aliens that way).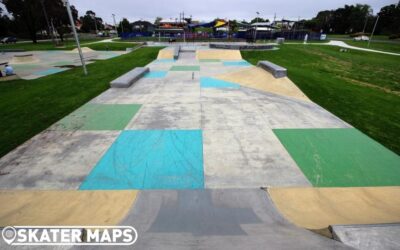 The fresh concrete that makes Bairnsdale skatepark is rad, to say the least. The plaza-style park consists of a large street section with all the street obstacles any kid could dream of. There is a rad mini ramp along with a number of other transitions around the...