Inverleigh Skatepark is a big skatepark for a very small town with a population of only 1K people. You will be hard-pressed if you have to wait very long to skate the park. The small concrete skatepark has a quarter at one end, a bank at the other end and a spine next to a box in the middle of the park. There is also one small rail on the side of the park. The 2 ft quarter has a sweet transition with traditional steel coping. The bank on the other side is pretty mellow but is still just enough to keep you pumping and rolling around the park. The obstacles in the middle of the park are just made out of steel but have similar transitions. The 2 ft spine super fun and its neighbouring box are very fun as well.
The Inverleigh skatepark is nestled between the Inverleigh Hotel and the Barwon River, so you can decide from a refreshing beverage or a swim to cool off after your skate.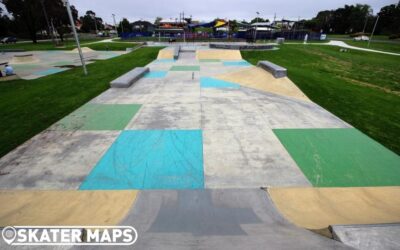 The fresh concrete that makes Bairnsdale skatepark is rad, to say the least. The plaza-style park consists of a large street section with all the street obstacles any kid could dream of. There is a rad mini ramp along with a number of other transitions around the...