The jewel of the Mornington Peninsula, Mt Eliza Skatepark is where you want to be. Designed and built by Convic in 2012  the park is SUPER SMOOTH and lays claim to having the Peninsula's largest bowl. The bowl is split-level, the top around 6 ft deep, and includes a taco and a deep end around 9 ft deep including probably a foot of vert. The bowl is designed for speed and carving and provides heaps of scope for maneuvers on the coping.
The rest of the park features a 4 ft mini half pipe with banked hips, fun box and rail, 3 ft high flat bank, mini ramps and street style obstacles including boxes (hubbas), rails and a euro gap.
The Skatepark also has a serious dedicated lighting system, which makes it a pretty sick place to check out on a summer evening.
The Mount Eliza Skatepark is located at Emil Madsen Reserve in Wooralla Drive, Mount Eliza. If you wanna join the footy team probably don't bother, just keep skating instead or alternatively head up the road a few K's and sign up for the Mornington Bulldogs; a far superior team.
Five Stars from the Skater Maps Team. Check it out!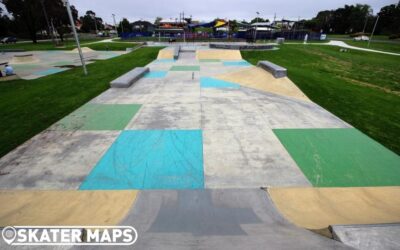 The fresh concrete that makes Bairnsdale skatepark is rad, to say the least. The plaza-style park consists of a large street section with all the street obstacles any kid could dream of. There is a rad mini ramp along with a number of other transitions around the...