Taylors Hill Skatepark is found on Calder Park Dr, Taylors Hill, Victoria. Featuring two awesome skate bowls the new skate park built by Convic is definitely worth checking out!
The featured banana shaped bowl is unique and offers a couple of different extensions, one of which slopes down gradually, as well as an awesome spine with a hip in the middle to link two perfectly shaped mini ramps. It is a modern funky bowl that will take you all day to find all the lines.
The second skate bowl is a large 6ft 3/4 conventional bowl that adds great flow to street section of the park.
The rest of the skatepark is scattered with quarters, rails, stairs, ramps and ledges. The 4 stair is accompanied by an identical pair of hubbas, one either side and there is also a bank that runs the length of the park with a 4 + 5 stair cut out to transition over.
Heaps of fun runs to be had here while Taylor Swift blasts through your headphones… haters gonna hate, hate, hate, hate, hate…
Awesome Skatepark and worth a visit.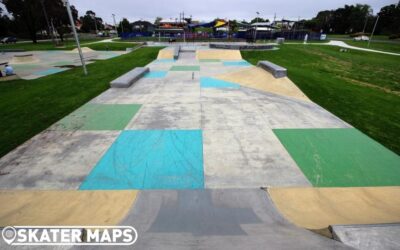 The fresh concrete that makes Bairnsdale skatepark is rad, to say the least. The plaza-style park consists of a large street section with all the street obstacles any kid could dream of. There is a rad mini ramp along with a number of other transitions around the...