Cranbourne Ledges can be found opposite KFC in Perry Park and runs between Clarendon St and Brunt St Cranbourne. The Skatepark is a street course with a snaking 1.5m wide walkway that covers roughly 70 meters in total. The name says it all, with the same repetitive steel obstacle with a couple of different features high ledges and a built-in ramp that takes you to the first ledge. The concrete is old and slow, and the skatepark gets repetitive very quickly with four of the same ledges. It dose however have one strange-looking blue tear drop at one end that is just as much fun as the many ledges.
This attempt at a skatepark is pretty crap and falls short of the rail, however, let's hope that the council leaves it as a crap skatepark is much better than no skatepark at all. Perry Park, on the other hand, has great facilities, including play equipment and even a mini outside auditorium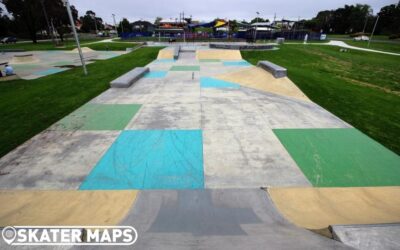 The fresh concrete that makes Bairnsdale skatepark is rad, to say the least. The plaza-style park consists of a large street section with all the street obstacles any kid could dream of. There is a rad mini ramp along with a number of other transitions around the...