Lorne Skatepark or also known as 'Kay Langan Skate Park' has been the benchmark for skateparks on Victoria's surf coast. The concrete skatepark features a large bowl and a decent sized street section with banks, rails, ledges and more. The shallower end of the Lorne skate bowl is 4ft while the deep end is at least 7ft with steel coping around the entire circumference. Unfortunately the shallow section of the bowl is a bit rough with the transitions. It is obvious where they have tried to fix it, however skates just as bad if not worse. The skatepark (or at least the skate bowl) can be skated all night long, thanks to the overhanging street lights, despite the skatepark rules suggesting otherwise.
Lorne Skate Park is a community lead initiative which officially opened in June of 2005 and is sponsored by the Lions Club of Lorne and can be found on the Lorne – Queenscliff Costal Reserve. We suspect Globe must have also put some money into the park as they have managed to splash their logo on the fencing. Despite the recent upgrades to nearby Aireys Inlet and Anglesea Skatepark, Lorne remains the best skatepark on the Great Ocean Road.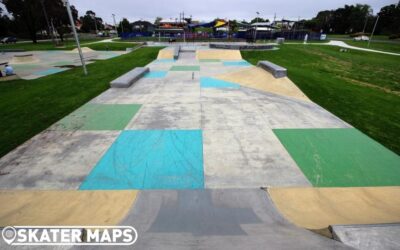 The fresh concrete that makes Bairnsdale skatepark is rad, to say the least. The plaza-style park consists of a large street section with all the street obstacles any kid could dream of. There is a rad mini ramp along with a number of other transitions around the...