The Mornington Peninsula Shire has two Mobile Skate Ramps that are portable and move around the Peninsula from spot to spot. This one is currently located in Somerville to amuse the skaters whilst the new Summerville Skatepark is being built. Being one of only a few steel half pipes left on the Mornington Peninsula, these portable mini ramps have been very popular over the years and have been found in some gnarly foreshore locations where you could only dream of having a skatepark.
The Mornington Peninsula Shire website shows where both of the mobile / portable mini ramps are located, however please brace yourself before entering the stone age for archaic websites. Also note that the Mornington Peninsula Shire are still discovering how to embed a map on their website with any kind of accuracy, therefore you might be searching an entire suburb for a skate ramp that might not even be there. Nevertheless, we will try our best too keep the location of this mini ramp up to date.
The Mobile Skate Ramp is made out of steel and despite its age, is fairing well when you overlook the superficial rust that has developed after years of neglect. The only issue with this particular skate ramp, is that there are heaps of dints on the flat section, where we suspect have been created over the years, by youths throwing shopping trolleys from the top. Although these dints and grooves are only fleeting and could easily be repaired, it is enough incentive to skip this ramp and keep looking for other skateparks and spots on the Mornington Peninsula.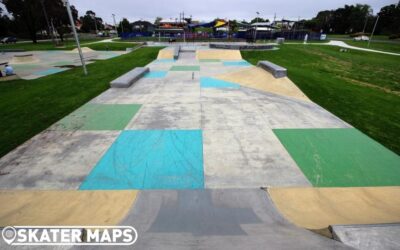 The fresh concrete that makes Bairnsdale skatepark is rad, to say the least. The plaza-style park consists of a large street section with all the street obstacles any kid could dream of. There is a rad mini ramp along with a number of other transitions around the...