Prahran Skatepark is on Essex St, Prahran, Victoria (opposite the Commission Flats) just a skate away from Prahran train station. Prahran was built in the middle of the vert ramp phase and is one of only a few iconic steel ramps left in Melbourne and is undoubtedly its best! The huge 14ft Vert ramp has at least 2ft + of vert, is still in great condition and has a cool 3ft extension roll in on one side. It's so big that you can get the heebie-jeebies just standing up the top.
Behind the vert ramp is one of the best steel mini ramps in the country with its mellow transitions and a 1ft extension with sloped transition up one end. However if it has been wet don't even bother.
This skatepark also features a street style skate bowl at the other end with one of the largest boxes that we have ever seen. There's a ten stair with down rail, hubbas, ledge, flat to down rail, ledges banks and quarter. There's also a second set of stairs at the other end of the box that transitions to a bank with down rail and hubbas.
If you get sick of skating you can always just slide around on the vert ramp on your bum, get involved in a game of street ball or go for a splash next door at the Prahran Aquatic Centre.
Local legends of the park include the Papas Brothers (Tas and Ben). If you haven't seen it then check out the doco "All This Mayhem" (2014) which details the Rise and Fall of the brothers in professional vert ramp skating and Tas' legendary rivalry with Tony Hawk.
Check it out on YouTube: https://www.youtube.com/watch?v=fBNgF5K4xPw
In the final scene of the flick Tas pulls off a world first, landing a kick flip varial 540, AKA The Mayhem, at the Prahran vert!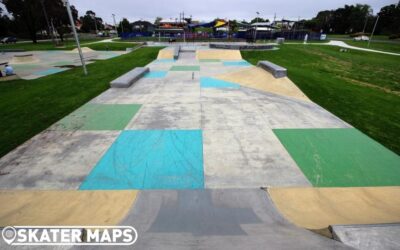 The fresh concrete that makes Bairnsdale skatepark is rad, to say the least. The plaza-style park consists of a large street section with all the street obstacles any kid could dream of. There is a rad mini ramp along with a number of other transitions around the...