The Vermont Skate Ramp (AKA the White Horse Ramp AKA the Vermont Vert) is a… BIG, OLD, STEEL, VERT RAMP.
The Vermont Skate Ramp is located on the Cnr of Burwood Highway and Morack Place, Vermont South, opposite Bunnings.
The ramp is smooth and fast with a good ft + of vert but is starting to deteriorate out in the flats where water pools if there's been rain or anyone has pissed their pants.
The ramp is no good in a strong Northerly wind (apparently) and it can get a bit stinky being next to the White Horse Tip and Recycling Centre. There are a couple of park benches around to sit on but not much else so bring a drink bottle with you.
Looks like you could keep some chickens in those cages too.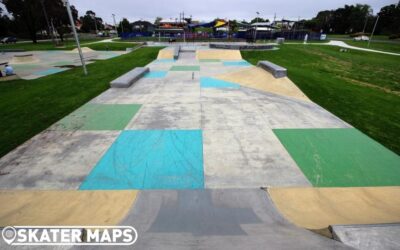 The fresh concrete that makes Bairnsdale skatepark is rad, to say the least. The plaza-style park consists of a large street section with all the street obstacles any kid could dream of. There is a rad mini ramp along with a number of other transitions around the...